Staten Island gets fresh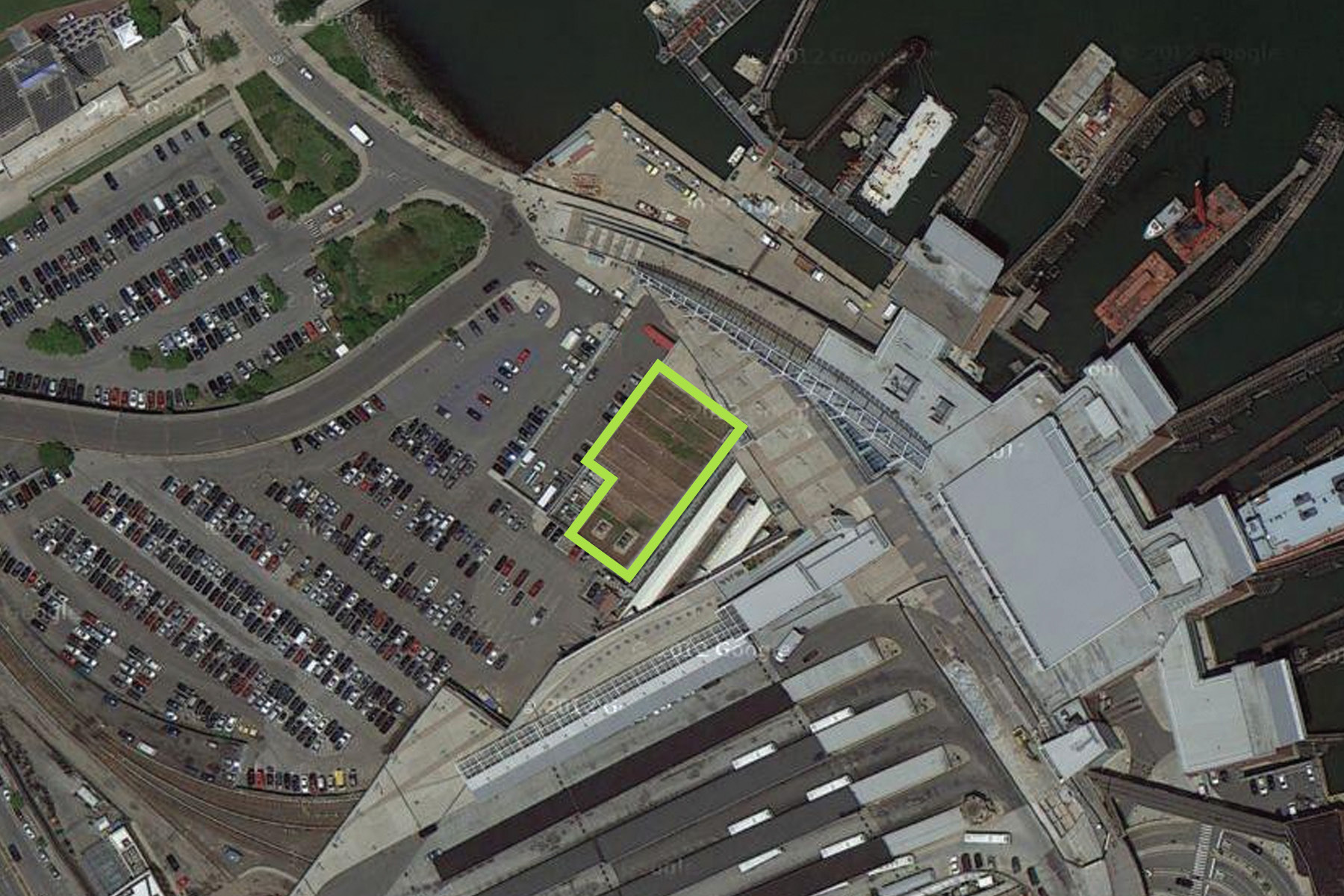 On the edge of Staten Island's harbor district an energetic team will soon "ferry" roof-fresh produce from an historic building to those in need. The site: the Staten Island Ferry Terminal.
The Department of Transportation introduced a 13,000 square foot Sedum and perennial green roof atop the Ferry Terminal's water filtration building during a 2005 building renovation for the purposes of managing stormwater and improving the scenery from an adjacent viewing deck.  By 2013, though, the green roof's dwindling maintenance budget had resulted in a defunct irrigation system and invasive species takeover by rapidly colonizing plants. What was once a sleek emerald veneer had become an unwieldy mess.  Could this green roof be restored or re-purposed?
Enter Living Restoration, LLC, a Staten Island-based edible landscaping company determined to convert the green roof into a working farm.  In April 2013 Project Director Adrian Wilton began the conversion by removing weeds and irrigation lines from a 1,200 square foot (0.03 acre) area with the help of countless volunteers.  The team later installed agricultural growth media to bring the depleted media depth up to between seven and eight-inches and then planted rows of garlic.
In partnership with New York Cares (to mobilize volunteers) and Community Health Action of Staten Island (to distribute food to low income residents through food pantries) Wilton plans to convert additional acreage to bring 9,000 square feet (0.2-acres) into leafy green production and 2,400 square feet (0.06 acre) into ornamental perennial beds.  "The roof is divided into plots by walkways; we're using these plots to structure the farm" says Wilton, who predicts that hardy greens like kale and even cabbage will perform well on the roof.  The roof-fresh produce will provide welcome ingredients for Port Richmond High School's culinary students, who plan to hold cooking classes at local food pantries to extend the farm's outreach.
Skyline farms exist throughout other New York City boroughs, namely Brooklyn and Queens, but the Ferry Terminal rooftop farm is a first for Staten Island.  "It's a great way to educate everyone about uses for green roofs," explains Wilton, who anticipates high visibility resulting from the neighborhood's rapid development and high ferry user traffic.
With all eyes on the Ferry Terminal roof, we may just see a crop of new rooftop farms sprout up across Staten Island's skyline.
—
If you live in Staten Island we want to hear what you think about this project!  Leave a comment below or post a note at the EAT UP Facebook page.