hyper-local food
North Carolinians, you're in luck!  You're lust for local food journalism has been assuaged by Food Life, a new foodie magazine recently released by parent company Sophie Magazine.  The budding farm-to-fork publication has taken an interest in rooftop agriculture by including an article by yours truly in the current (Summer 2014) issue.  If you're in the Tar Heel State you can pick up a copy of the magazine, hot off the press.  If you're not, here's a reprint of the article for your reading pleasure: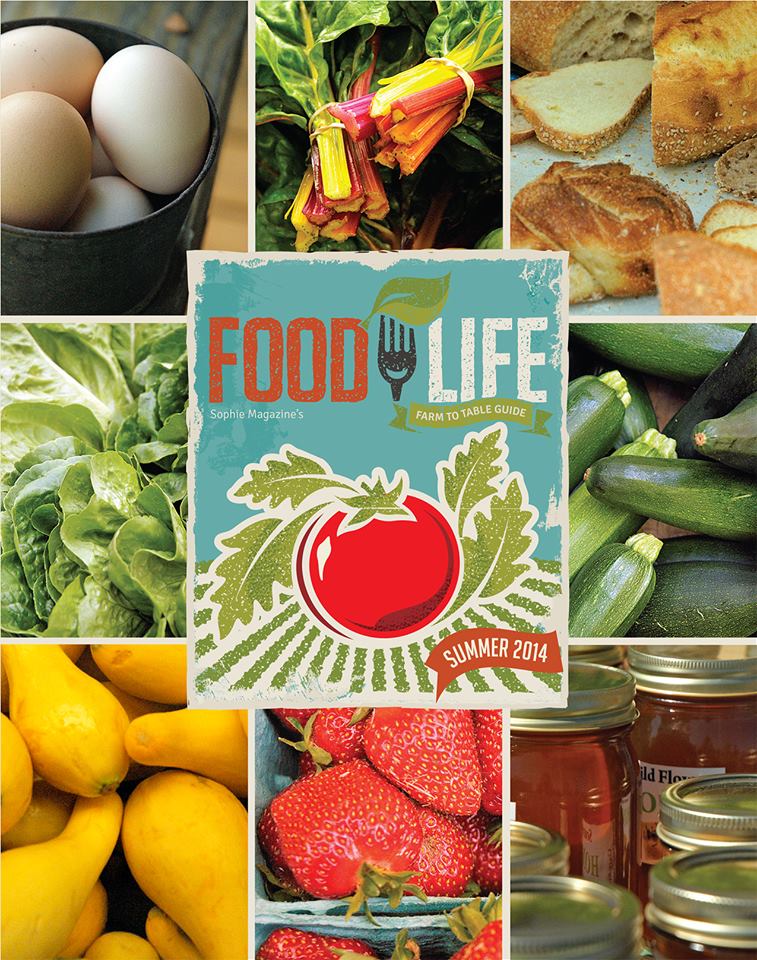 Hyper-Local Food: Implementing Rooftop Agriculture
by Lauren Mandel, MLA, ASLA
Strolling through the florescent-lit aisles of my local market I peruse the fine print on the packaged produce: vine-ripened tomatoes from California, organic Mexican-grown avocados, pesticide-free Idaho potatoes. Disillusioned by the noticeable lack of "local," I leave my basket and walk out the door.
Now let's get one thing straight. I love to eat. There's nothing better than a delicious home-cooked dinner with friends and a few bottles of red. Any chef worth her weight in beans, though, will tell you that the secret to a delicious meal is fresh ingredients. Freshly harvested fruits and veggies bring intense flavors, crisp textures and plentiful nutrients. These prized qualities decline in many types of produce after harvest, which means that if you want fresh, you better buy local.
In Philadelphia – where I work as a landscape architect and green roof designer – local is fairly easy to find. Farm-to-fork restaurants, accessible CSAs and a strong farmers' market scene mean that urbanites in my city know the taste of good food. In recent years, the quest for local has inspired many Philadelphians to take it up a notch by growing their own food; an idea that harks back to the victory gardens of World Wars I and II, but with a modern twist. Back yards, front stoops, fire escapes, windowsills and community gardens provide the space today's urban gardeners need to cultivate freshness.
But what if you don't have a yard or a community garden plot? What if your fire escape doesn't get enough sun to grow your beloved eggplant? Urbanites across North America have converged on a creative solution to this common predicament: rooftop agriculture.
This hyper-local food movement is gaining momentum as urban gardeners and farmers realize the potential of the empty acres above us. Rooftop agriculture allows food to travel 50 feet rather than 50 miles, or 500 miles! The movement provides an avenue for homeowners, students, restaurateurs and urban farmers to grow their own fresh, delicious food close to home while repurposing underutilized space and getting a little sun-kissed exercise. The city governments of Philadelphia, New York, Toronto and Portland, OR additionally applaud rooftop agriculture for its ability to manage stormwater runoff.
During the past five years I traveled around North America visiting rooftop gardens and farms and meeting the inspiring growers behind each skyline gem. I spoke with women and men, kids as young as four, and people of all ethnicities who are invested in rooftop agriculture each for a different reason. Whether growing rooftop crops in containers, raised beds, a row farm or greenhouse, one thing is clear: rooftop agriculture reconnects us with our food.
This message of reconnection rings true at Graze the Roof, where neighborhood kids learn about gardening and healthy eating atop a church roof in San Francisco's Tenderloin district. The message is clear at Eagle Street Rooftop Farm in Brooklyn, where volunteers reach deeply into the soil. The message speaks magnitudes at Lufa Farms, which provides Montreal residents with year-round, local produce from hydroponic rooftop farms. The message may resonate with you, as you harvest perfectly ripened fruits from your own rooftop garden.
Now is the time to reconnect with our food. Whether this means buying local or growing your own, remember that you can make a difference while enjoying the taste of freshness. Bon appétit!
(c) 2014 Lauren Mandel.  All rights reserved